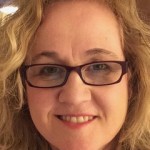 Barbara Glenfield, P.T., (301) 565-4924 ext. 304
Email:  bglenfield@crossingshealing.com
Barbara has been practicing the art of manual physical therapy since receiving her degree from Northeastern University in 1981. Barbara's primary focus in treatment is to guide her clients toward their own innate wisdom and healing capacity. This approach is carried out on many different levels. On one level it will be to address a specific symptom or a localized area. On another level it will be to assess and address the patterns this symptom arises from. On yet another level, it will be to discern, acknowledge and witness the more fundamental truths of what is present. Barbara takes great joy in partnering her clients in the possibilities for their well-being.
Barbara's background stems from a dedicated professional life of manual diagnosis and training. Education in mobilization techniques, muscle energy techniques, myofascial release, craniosacral therapy, visceral manipulation, lymph drainage therapy, and somato-emotive approaches have formed the bulwark of her background.