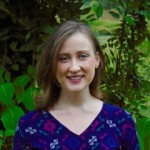 Devon Gray, M.Ac., L.Ac. (301) 565-4924, ext. 302
Devon Gray is an acupuncturist and Chinese herbalist, as well as certified group fitness instructor, Barefoot Training Specialist®, and qi gong practitioner. Her approach to healing is rooted in nature and the indivisible trinity of body, mind and spirit.
She supports members of the community in designing and practicing their unique intentions regarding health, wellness, relaxation and purpose. Through spacious listening, partnership, and the power of mindful language, she offers her clients guidance towards self-empowerment. She welcomes people of any background to explore the endless possibilities of healing.
Devon graduated from Maryland University of Integrative Health with a Master's degree in acupuncture. She earned her B.A. in psychology with honors from Rutgers, The State University of New Jersey. Before pursuing acupuncture, she worked as a diagnostic interviewer in clinical psychology research studies, and taught positive psychology practices to children.
Outside the treatment room, she enjoys be-ing in nature, reading, and dancing. She considers herself a "forever student" of yoga, qi gong, philosophy, medicine, and human nature.
"Out beyond ideas of wrongdoing and rightdoing, there is a field. I'll meet you there." –  Hafiz