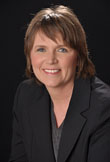 Emory Luce Baldwin, MS, (301) 565-4924 ext. 319
email:  ebaldwin@crossingshealing.com
Emory is a Licensed Clinical Marriage and Family Therapist. Her masters degree in Family Therapy is from the University of Maryland Family Studies Program and her Certification in Parent Education is from the Parent Encouragement Program in Kensington, Maryland. Emory is a family therapist who works primarily with families with children, adolescents, and young adults. She provides parenting consultations individual and couples who are concerned about their children's behavioral and emotional challenges–as well as their own reaction to their children. Her work is informed by her continuing education in the positive, holistic psychology of Alfred Adler as well as the respectful, non-blaming approach of Narrative Therapy that centers people as the experts in their own lives.
Emory's background and training in child development and parenting skills makes her unique among family therapists. She has a special affinity for what she calls the "extra-challenging" children and teens–finding that inside of every extra-challenging child and teen is an amazing kid, but to grow up well, they may require an extraordinary amount of structure and support from their parents and other caring adults. Emory also brings a great compassion to her work with parents who are dismayed to discover that they often don't like their children–or themselves–very much, and they want to change that. In her work with young adults, Emory helps her clients as they develop their own understandings and preferences for how they wish to live the life that they are entering