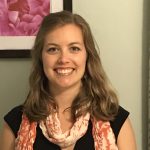 Lindsey Edwards, M.Ac., L.Ac. (301) 565-4924 ext. 307
email: ledwards@crossingshealing.com
My love of nature and my desire to be in a healing profession led me into the study of acupuncture, where I discovered a deep connection between natural cycles and health. I received a B.S. in Environmental Studies from Sewanee and a Masters in Acupuncture from Maryland University of Integrative Health.
I have observed the positive effects of acupuncture both personally and with animals in veterinary hospitals. When homeostasis and harmony are restored in the body, a person or animal is able to blossom fully from within. My intention is to work with patients to address the root cause of their symptoms, so that long-lasting healing may occur.
Please contact me via phone or email if you'd like more information or to set up an appointment. I also offer complimentary 15-minute consultations for those wishing to meet me before scheduling the first appointment. If you enjoy social media, you can follow me on Facebook and Instagram at Lindsey Edwards Acupuncture (@lindseyacu). I look forward to connecting with you!