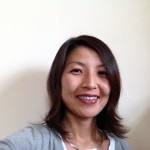 Mari Katsumi,M.Ac., L.Ac., (301) 565-4924 ext. 307
Mari received her acupuncture training at Maryland University of Integrative Health (formerly Tai Sophia Institute). She is National Board certified. Growing up in Kyoto, Japan, and having lived in the US for almost two decades, Mari brings to her work a harmonious sensitivity of East and West. Mari believes acupuncture is a holistic medicine that helps bring balance back to your body and mind. Acupuncture works with the natural vital energies(Qi or Ki) of the body to promote its ability to heal itself. Chinese medicine recognizes that our health is maintained when we live in accordance with nature. She is a believer of internal and external harmony being an important key to a healthier, fuller and longer life.
Mari has been intrigued by and passionate about learning Somatic Experiencing(SE); a body-centered approach to physical and emotional healing developed by Peter Levine (www.traumahealing.com). She is currently in the advanced level of the Somatic Experiencing training program. SE works in the here and now and focuses on sensation and body memories and resources occurring in the present. Mari resonates with this approach as it helps clients learn to trust in the innate wisdom of the body in a gentle way.
Outside the treatment room, Mari enjoys both domestic and international travel with her husband and teenage daughter, and appreciates poetry, music, and photography.
Mari accepts CareFirst Blue Cross Blue Shield as an in-network provider. Before making an appointment, you may call the eligibility number on the back of your insurance card.  You may also call or email Mari(mkatsumi@crossingshealing.com) directly to find out about your benefits.