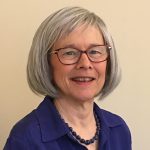 Alaine D. Duncan, M.Ac., L.Ac., Dipl.Ac., (301) 565-4924
email: ADuncan@crossingshealing.com,
Alaine Duncan has a unique approach to her acupuncture practice that integrates modern understandings of the neuro-biology of traumatic stress with ancient healing principles from Chinese medicine. Her clinical fascination has carried her heart to places and people she never imagined when she graduated from acupuncture school in 1990, and completed Somatic Experiencing training in 2007.
Alaine has a particular interest in treating clinicians who work with trauma survivors. She can offer Somatic Experiencing students credit for both personal sessions and case consultation at all levels of the SE training.
Register for her monthly newsletter, "News & Views On Integrative Healing" or find information and registration opportunities for her classes and workshops, including the popular seasonal workshop series, "The Tao of Trauma", at www.integrativehealingworks.net.
Alaine's research background includes serving on studies assessing the impact of integrative medicine on compassion fatigue in military caregivers; and on the use of acupuncture for the treatment of combat-related traumatic stress, insomnia, pain, chronic headaches and Gulf War Veterans Illness.  Alaine is a charter member of the Integrative Health & Wellness program at the DC VAMC, serving as a contractor there from 2007 to 2017.
Alaine was a Founding Director of Crossings in 1993.
Want to know more? Go to http://integrativehealingworks.net/webinars-and-interviews/ to hear more about her approach to personal and social transformation "in Alaine's voice" or check out her book, The Tao of Trauma: A Practitioner's Guide for Integrating Five Element Theory and Trauma Healing, written with Kathy Kain.