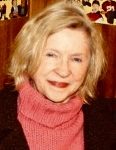 Jane Grissmer, M.Ac, L.Ac., Dipl.Ac., (301) 565-4924 ext. 314
email: jgrissmer@crossingshealing.com
"Lingering like gossamer, it has only a hint of existence, And yet when you draw upon it, it is inexhaustible."    Lao Tzu
I have always loved the above quote because it speaks to me of Qi, vital energy, life force…..which is what we (practitioner and patient) cultivate in the treatment room together. As an acupuncturist I am rooted in the interweaving of Body/Mind/Spirit as one; healing through our natural capacities, and cultivating the five seasons in nature as our guide to health and wholeness. Through my 30 years of clinical experience I have come to know that healing and living is a journey and that the goal in any treatment room is to recover and grow our highest potential in living. This can mean anything from improved functionality in one's physical structure or organs to a renewed spirit or zest for life to growth in our mental/emotional awareness.
As one of the early pioneers in the recovery of the healing arts in our American culture, I founded Crossings: A Center for the Healing Traditions to anchor their presence here. Today I continue in my role as Director with an ongoing vision to increase collaboration with western medical care practices for the sake of improving health care outcomes and partnership in patient care.
As part of my ongoing commitment to sustaining acupuncture as a healing art for generations to come, I also serve acupuncture students in the classroom and as Division Chair of Theory at Maryland Institute for Integrative Health (formerly Tai Sophia Institute).
My publications include a range of articles on Chinese medicine, healing, emotions and the seasons.
I live and breathe the air in the Potomac watershed with my daughter, grandsons, and circles of kindred spirits.