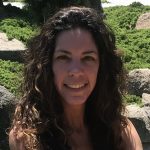 Mariana Matias M.Ac., L.Ac.,
email: mmatias@crossingshealing.com
Mariana is an acupuncturist and yoga instructor who passionately supports her clients' journey of self-discovery to achieve optimal health and well-being. Integrating yoga therapy with the ancient healing arts of Chinese Medicine, Mariana strives to provide a holistic and powerful treatment plan that empowers her clients to tap into their innate healing capacity. The healing presence she brings into the treatment room helps to cultivate balance, health, and joy to those around her. She incorporates key principles of yoga, integral anatomy, and Zero Balancing into her acupuncture practice to holistically care for her patients.
Mariana apprenticed with Alaine Duncan as an Integrative Health and Wellness provider at the DC Veterans Affairs Medical Center. She is a founding member of Acupuncturists Without Borders, National Capital Area, to serve the local immigrant and refugee community and neighbors in need. She finds joy in her hobbies, which include Taiji, Qi Gong, Sailing, Salsa and Bachata, and cherishes time with family and friends. Mariana earned her BS in Economics at George Mason University, and her Masters of Acupuncture at Maryland University of Integrative Health (MUIH). She is currently enrolled in the Chinese Herbs program at MUIH.