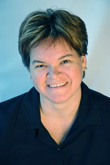 Marie E. Connor, M.Ac., L.Ac, (301) 565-4924 ext. 322
email:  mconnor@crossingshealing.com
Marie Connor is a graduate of the Maryland Institute for Integrative Health (formerly Tai Sophia Institute).  She has 20 years experience as a bodyworker, acupuncturist and intuitive counselor. Marie enjoys working with people who are in inquiry about their own body/mind connections. Though she has a general practice working with all different types of people, Marie specialized in psychotherapeutic work.